Scooter Training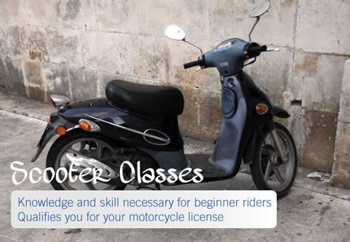 You may now take our classes on your own scooter to obtain your motorcycle license.
MOTORCYCLE & SCOOTER RIDER COURSES
KD's motorcycle and scooter safety courses run from April to October.
KD's scooter training is offered in conjunction with our motorcycle classes every weekend.
To sign-up for scooter training is easy:  Simply enroll in one of our Basic Rider Courses (BRC1 or BRC2).
Participants under 18 years of age must have the liability waiver notarized or signed by a parent or guardian and witnessed by a staff member prior to the start of class. View Liability Waiver (PDF)
Persons under the age of 18 wishing to obtain an instruction permit (temps) at your local DMV Office prior to completing the course need to obtain a proof of enrollment letter in one of our classes, which is available upon request. This is your proof of enrollment required by the DMV.
An instruction permit (temps) is not required to take the Basic Rider Course.
After successfully completing the course, you will be registered at WISDOT to obtain your class M endorsement.
View the complete list of current classes:
VIEW BRC1 MOTORCYCLE & SCOOTER RIDER CLASSES
Email Us:
Phone:
920-619-2803
We accept the following methods of payment for all motorcycle classes:  cash, check, money order, debit/credit cards, and PayPal.
Call Kenny at (920) 619-2803 to schedule an appointment.  A payment of cash or check will need to be made at the time of the appointment.
Your questions are welcomed – please fill out this online form and I will get back to you as soon as possible.